Selection of recent projects
Global Integration
Global Integration §
Elsevier is a global provider of information and analytics for professional and business customers across industries, leading the way in advancing science, technology and health.
Amongst Elsevier's vast digital product portfolio are ScienceDirect, Mendeley, Scopus, Embase and Scival.
Elsevier is transforming from scientific content provider to workflow solutions provider for science, technology, and health professionals.
Part of this transformation is to design products that work together seamlessly. Examples of this integration include an overarching master brand, single sign-on functionality, and cross-product interoperability.
The main objective for the "Global Integration" project is to visualize how a user's journey—when signed in to a multi-product platform—would look moving from one product to another, and to support research and publishing related tasks that are not specific to one single product.
Design solutions illustrate cross-product interoperability features in a uniform way. Solutions that allow users to smoothly move through their workflow; a workflow that can consist of touching upon multiple different products. The workflow is supported by the right information at the right time. Instead of having to switch between products depending on their task, users are now focussed on getting answers and solving problems in an intuitive, seamless and enjoyable way.
The proposed design solution is to be gradually rolled out throughout Elsevier's ecosystem of digital scientific solutions.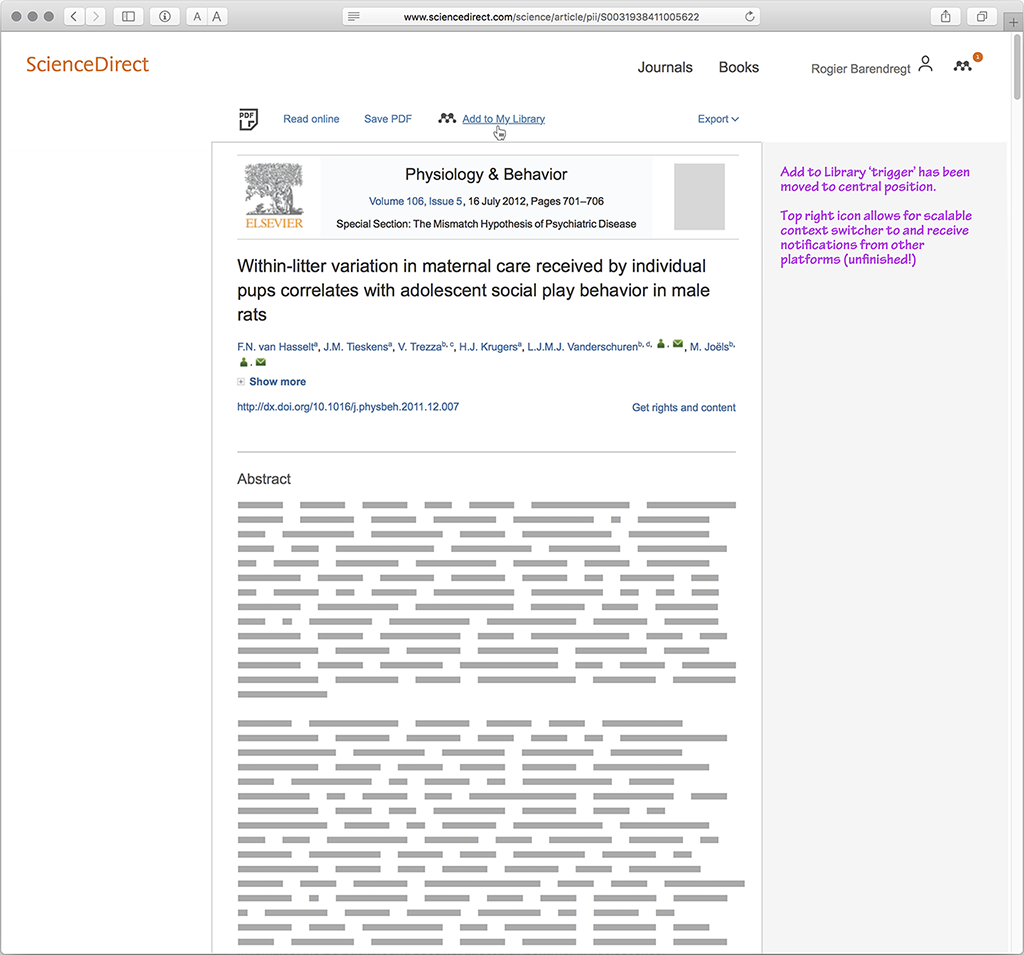 Brief §
Explore concepts through wireframes as a means to clarify business requirements and user needs.

Generate multiple alternative design directions, while being creative within imposed restrictions.

Use design critiques to further generate and improve ideas, and to solidify project direction, business requirements, and user needs.

Provide a framework to get buy-in from multiple internal stakeholders with different interests and priorities.

Incorporate branding strategies.

Provide developers with detailed information to get concepts implemented in production.
Process §
Conduction of extensive competitive analysis.

Identification of cross-platform journeys and use cases that researchers find most important and validate current work-flows.

Identification of key cross-platform tasks and where to significantly improve user experience partly through uniform branding and a consistent visual language.

Developing wireframes, a supporting visual design and interface prototype to explore concepts, validate and iterate on design directions.

Providing cross-platform and contextual notifications and alerts to users through the interface.

Preparation of goals and objectives for testing approaches.

Qualitative user interviews to validate the journey concept using an interface prototype.

Clarify that a user's online library is publisher-agnostic; users will also benefit from research available outside of the Elsevier domain.

Clarify that a user is part of an ecosystem ('Research Platform') when using one or more Elsevier products.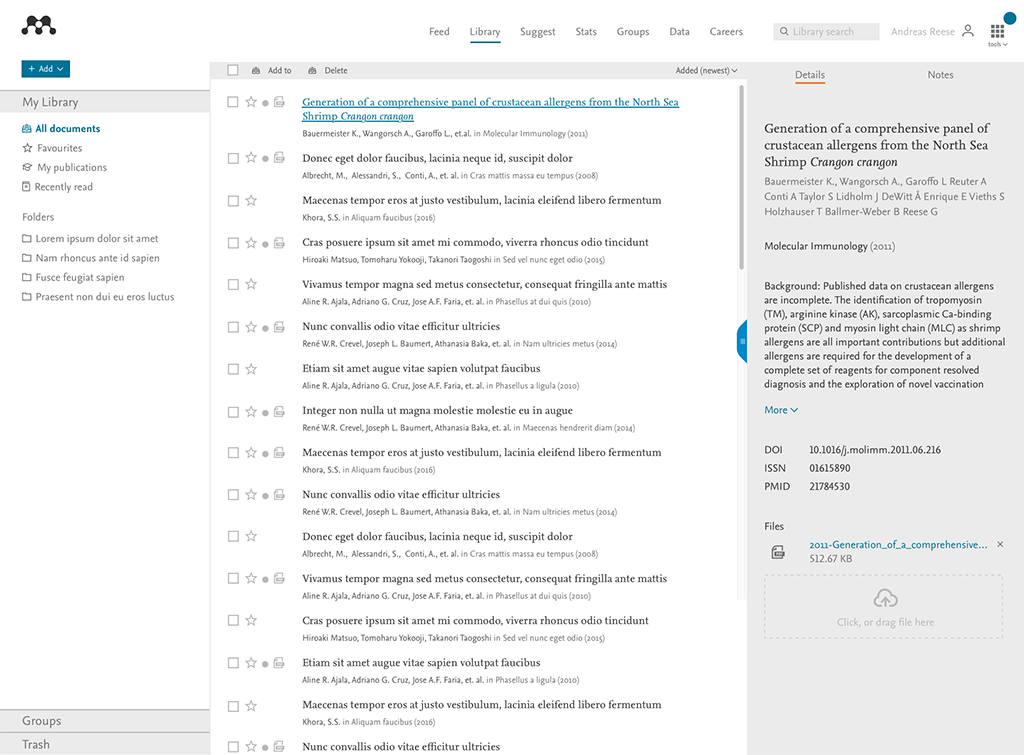 Solution §
In order to unify and enhance the customer experience across different products within the Elsevier digital ecosystem, an 'integrated header' design solution was proposed.
An integrated header allows users to jump seamlessly, and in context, from one product to another. It also provides a single place for seamless product and functional integration.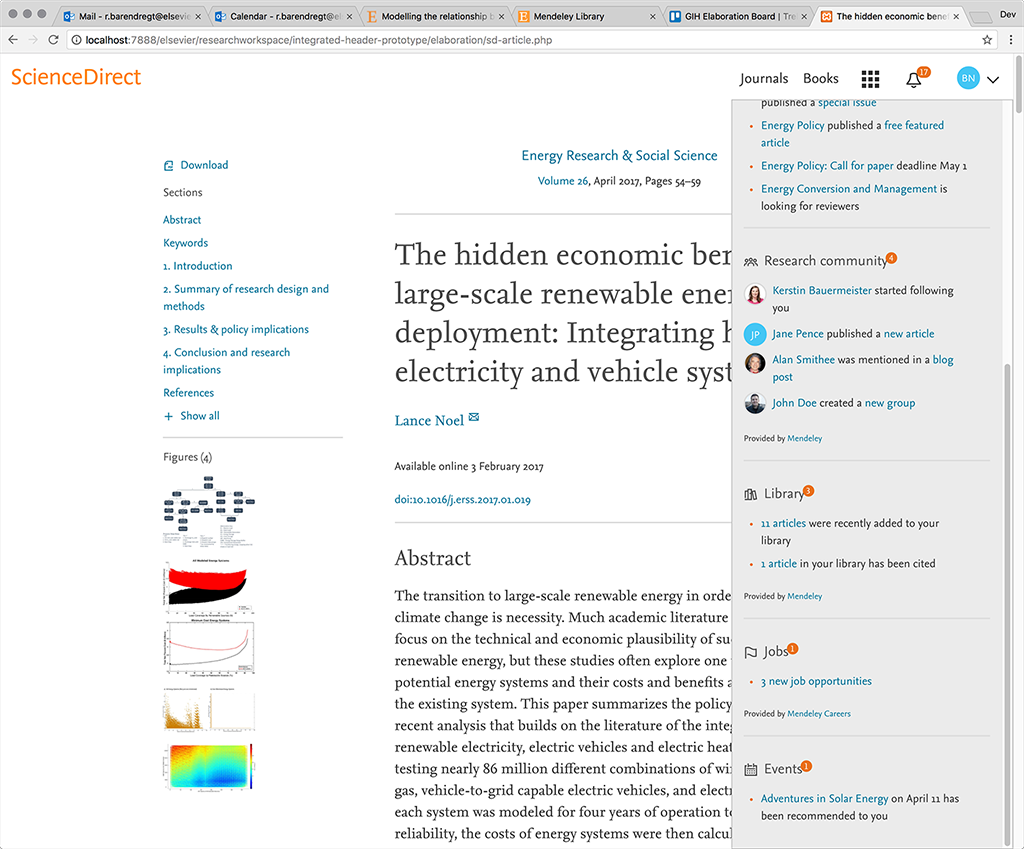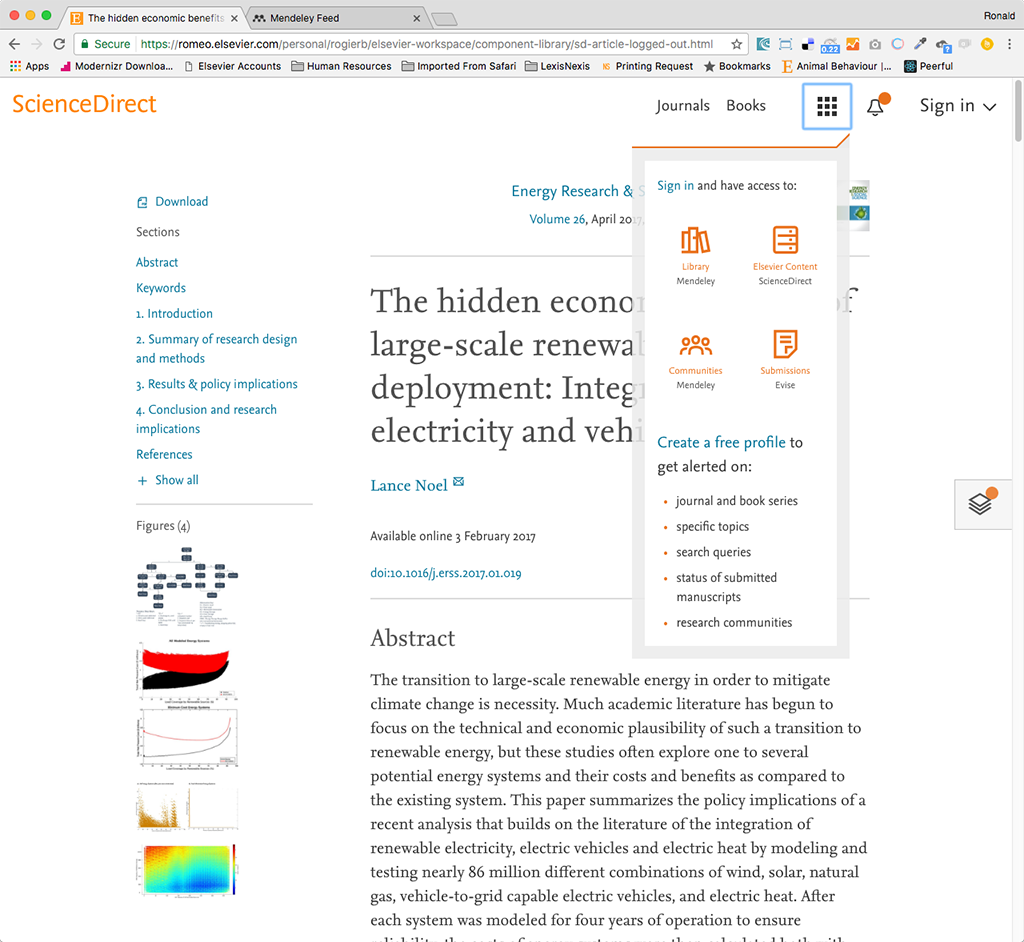 Deliverables §
Competitive analysis

Ideation

Visual design solution

Wireframes in Sketch

InVision prototype

Working interface prototype for testing purposes, stakeholder buy-in and a blueprint for developers
Tags
Visual design
Competitive analysis
User research
Concept
Concept testing
UX
IxD
Sketch
InVision
HTML
CSS
Responsive design
Workflow optimization
Scientific publishing